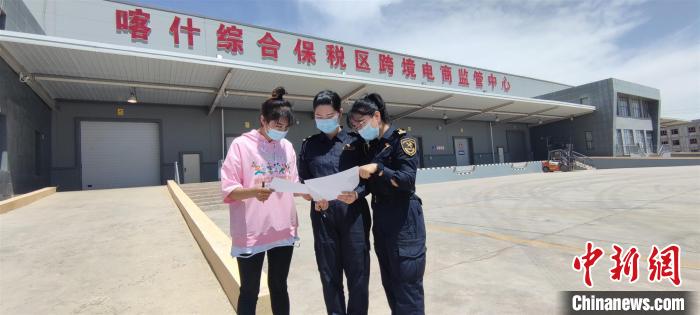 In July this year, Xinjiang Kashi region realized more than 11 billion yuan. Kash-Customs for map
In July this year, the foreign trade volume in Kashgar is more than 11 billion yuan. Kashn Customs
Zhongxin Net Xinjiang Kashgar August 26 (Chen Guowen Xu Wenting) According to Kashgar Statistics, Juli, 2021, Xinjiang Kashgar, China's foreign trade import and export total value is 11.9 billion yuan (RMB, the following), an increase of 227.2% compared with the same period last year, maintained a strong growth momentum since the beginning of the year.
Kashgar said, in July this year, Kashi region has a total value of 11.9 billion yuan in foreign trade import and export, an export of 11.7 billion yuan, a year-on-year increase of 239.7%, an import of 200 million yuan, an increase of 6.1% year-on-year. Electromechanical products, clothing, footwear are major export goods, accounting for more than 80% of the total value of import and export in Kashgar.
It is understood that this year, Kashiharm has continuously optimizes the business environment. It has concentrated backbone forces in the \"one-stop\" service hall of the intensive zone to concentrate on 48 business executives, customs clearance, inspection and other 48 business, actively promoted \" Internet + Customs \"Online Record Work, Promoting Property Intelligent Audit, Self-Service Printing and other preferential policies, effectively compressing 60% of the business processing time. Vigorously promote the combination of China-European Ban Railway linkage to help companies save nearly one-third of transportation costs.
According to reports, from January to July this year, the customs quickly inspected the \"Zhong Ji\" public iron joint transport secondary customs goods 18 cars, \"Zhongjiha\" public iron intermodal passenger goods 29 cars. The joint comprehensive main zone was established to promote cross-border e-commerce and financing leases and other new states. Break through 1.8 million pieces. In-depth promotion of the \"four self-line\" new supervision models in China, promote the implementation of \"General Taxpayers\" pilot work and \"E-machining\" business, effectively reduce tax burden, and enhance corporate competitiveness.
The person in charge of Kashgar Import and Export Trading Company said this year, the surrounding countries around the Kashgar have increased significantly on China's clothing shoes and hats, and the demand for daily necessities increased sharply. The number of export orders of the company also climbed. At the same time, port epidemic prevention measures are more accurate and efficient, and the port line clearance effect has greatly improved, which also attracted some companies to contact foreign customers and increase the number of orders.
Kash Customs Party Committee Secretary, Guanhang Wang Chuanjie said: \"With the continuous advancement of the\" core area of \u200b\u200b'core \", the strong support of the intersection of the troops, the advantages of clothing and textile industry and mechanical and electrical products in Kashgar area The development of the industry is rapidly and effectively promoted the high-speed growth of foreign trade in Kashgar. Kashiharma will continue to optimize the business environment, play the convenience of public rail transport, and drive the Chinese European class to promote the export of Kashite industry cluster, actively help Kash region open Economic high quality development. \"(End)
Source: China News Net