China Economic Weekly – Economic Network News (Reporter Sun Bing) On May 28, Jingdong Logistics (02618.HK) officially landed in the Hong Kong Stock Exchange and became the third listed company in Jingdong. 9 representatives from Jingdong logistics customers and employees and six-axis collaborative mechanical arms that symbolize Jingdong Logistics Technology, together knocked on the listed.

Jingdong Logistics Login Hong Kong Stock Exchange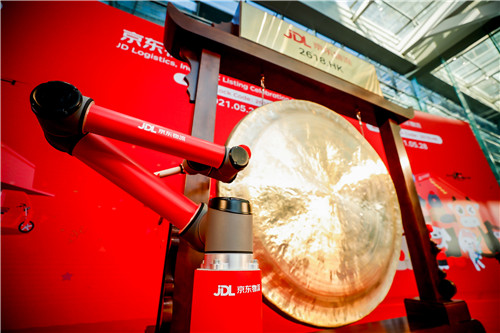 Six-axis cooperative mechanical arm ringing listed 锣
Jingdong logistics This IPO distribution price is 40.36 Hong Kong dollars, if you do not exercise overtributes, the net raised funds raised in Hong Kong dollars. After opening, Jingdong logistics stock price has exceeded 14%, and the market value has a market number of HK $ 280 billion.
Jingdong Logistics CEO Yu Rui said, \"In the future, we hope to use technology-driven integrated supply chain, maximize the development of the entity economy and emerging industries, continue to provide users with high quality service experience, decreased together with partners Social logistics costs, promote business and social efficiency. Jingdong logistics will firmly 'technology drivers, lead the global efficient circulation and sustainable development' mission, to ensure that no matter who, where, as long as you find Jingdong logistics, you can enjoy the most Trustworthy service. \"
Who is Jingdong Logistics?\"
\"China's largest integrated supply chain service provider\", this is the \"self-introduction\" of Jingdong Logistics to the capital market.
In fact, the overall development of Jingdong logistics has experienced three stages. In 2007, Jingdong began its own logistics in 2007. For a long time, Liu Qiang Dongli's \"self-built logistics\" has been questioned, and many people think that this practice is too large, the business is too heavy, too uninterletics. However, when Jingdong Logistics has developed to today, not only has become the unique competitive advantage of Jingdong compared to other e-commerce platforms and strong moats, Jingdong logistics itself has become the entire system of Jingdong, very imagined, and it is full of Liu Qiangdong. Vision.
The second phase begins in 2017, Jingdong logistics opens all over-external open, open capacity and resources to external customers, and operates independently of Jingdong Group. Jingdong Logistics can not only provide warehousing and distribution services, express delivery services, large-piece logistics services, cold chain logistics services, cross-border logistics services, logistics technology services.
The third stage begins in 2021, Jingdong Logistics will take IPO as an opportunity to enter a new stage of development, that is, the industry customized supply chain solutions are integrated supply chain service providers.
Of course, the bottom of this is from the huge technical investment in Jingdong. According to the data disclosed in Jingdong, in the past three years, Jingdong logistics technology investment has nearly 5.3 billion. By the end of 2020, Jingdong Logistics already has more than 4,400 technical patents and computer software, including automation and unmanned technology.More than 2,500 items are related.
Jingdong Logistics not only built the first full process without a warehouse and the first 5G logistics park, which took the lead in achieving the scale of express robots, and also helped Jingdong Group to serve nearly more than 500 million consumers, through 1000 Multiple warehouses put millions of SKUs in the inventory of SKUs in the inventory of 2021 to 31.2 days in the first quarter of 202, and creating the best cases of global logistics technology innovation.
Of course, in addition to technology, people are more important assets for logistics industries. The prospect of Jingdong Logistics shows that as of 2020, Jingdong Logistics has more than 250,000 employees, including more than 240,000 employees such as warehousing, express delivery, customer service. Jingdong Logistics is a company that is the most reluctant to spend money in the logistics industry. In terms of employee spending, 2020 Jingdong logistics is a total of 26.1 billion employees, and the number of employees at the end of the 2020, the number of employees will be pressed, and the average employee Nearly 110,000 years, monthly spending nearly 9,000 yuan.
Jingdong logistics makes money?
Jingdong is a heavy investment in logistics for more than ten years, and is there yet to get a harvest? Jingdong logistics make money? This is probably one of the most concerned issues in the capital market.
Jingdong logistics disclosed in the prospectus, Jingdong Logistics at 2018, 2019 and 2020, Jingdong logistics revenue was RMB 37.9 billion, 49.8 billion and 73.4 billion, of which 31.6% year-on-year, 2020 The year-on-year increased by 47.2%, almost doubled compared to 2018. In the first quarter of 2021, Jingdong logistics income reached 2.24 billion, an increase of 64.1% year-on-year, and continued to maintain a rapid growth.
Since 2017, it has been fully open, and external customer revenue is continuously improved. According to the prospectus, its proportion has been 29.9% in 2018, and 38.4% in 2019 increased to 46.6% in 2020. The external open strategic opening strategy has achieved remarkable results.
At the end of 2020, Jingdong logistics has more than 190,000 corporate customers, and its integrated supply chain solution covers the fast food, clothing, home appliances, furniture, 3c, car, fresh, etc. Industry. Integrated supply chain income is the main composition of Jingdong logistics revenue. In 2020, Jingdong logistics revenue reached 7.34 billion, and income from integrated supply chain customers accounted for 75.8%; 2020, Jingdong Logistics integrated supply The number of chain guests reached 52,700, an increase of 62% compared to 2018.
Jingdong Logistics also said in the present invention, the company has profitable ability, after eliminating the fair value of equity incentives that do not affect the company's value, 2020 Jingdong logistics earnings exceed 1.7 billion.
According to the Hong Kong Stock Exchange disclosed in Jingdong logistics fundraising, 55% of fundraising will be used to upgrade and expand six logistics networks, maintain competitionAdvantages; 20% of fundraising will be used to develop advanced technologies related to supply chain solutions and logistics services, including automation technology, data analysis and algorithm and other underlying technology; 15% of fundraising will be used to extend integrated supply The breadth and depth of chain solutions, deep farm existing customers, attracting potential customers.
What is the money to earn in Jingdong logistics?
Jingdong logistics has always emphasized that the company has long promising the industrial opportunities of the integrated supply chain and will continue to invest. Jingdong Logistics said in the prospectus. ]
China has the world's largest logistics market, compared to single logistics services, integrated supply chains more agile, efficient, accurate, and more demand for different vertical industries. According to a burns consultation report, the market size of the integrated supply chain logistics industry will increase from 2020 to RMB 3.2 trillion in RMB 3.2 trillion in 2025, approximately 1.8 times that of China's logistics spending growth.
For the industry, Jingdong logistics has been listed and the capital market has also reflected the attitude towards the supply chain industry. Compared to traditional logistics service providers, Jingdong logistics is more integrated, reflecting full coverage of full chain digitization and end-to-end, solutions and services can adapt to different vertical fields. The listing of Jingdong Logistics means that the value of logistics supply chain is being promoted from the transaction efficiency of the retail industry, and upgrading to enhance the efficiency of the whole industry, through several psychic social supply chains, deep service entity economy, reduce social logistics costs.
According to the data disclosed in Jingdong Logistics, 2020, Jingdong logistics market share reached 2.7%, and from the entire industry, the market size of the integrated supply chain is expected to increase from 2020 RMB 2.0 trillion. RMB 3.2 trillion in 2025. This means that each of the market share is more than 32 billion income, so broad growth space is indeed worth sustainable investment.
\"In the past 14 years, Jingdong logistics has conducted a lot of investment in infrastructure, with more than 250,000 employees, and serves 190,000 customers worldwide. Jingdong logistics is willing to do the most bitter, most tired Things but valuable things are to allow the vast rural and remote areas to enjoy the same high-quality logistics services as developed areas, so that small and medium-sized enterprises can enjoy the same efficient integrated supply chain service. \"Jingdong logistics is responsible People said.
The famous economist, Director of China and the World Economic Research Center of Tsinghua University believes that the difference between Jingdong logistics and traditional logistics is the combination of supply chain, forming a consumption to drive production and supply. New mode of chain development. Jingdong Logistics Positioning \"Technology Driven Supply Chain\"Decision and logistics service providers, digital, intelligent development trends make the supply chain more scientifically, efficient, so that China's big market is more smooth, this is the \"13th Five-Year Planning Suggestions\" \"universal domestic economic circulation\"A specific implementation method.
Li Dawui also pointed out that the development of the supply chain is promoting the core capacity of the entity economy, on the one hand, helps production more purpose, more continuity; on the other hand,Let consumers can buy them more in time, the digitalization of the supply chain, the intelligent upgrade will drive the efficient development of the entire China economy.